Innovative Graphics Take School Pride to New Heights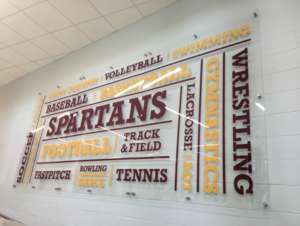 Turpin High School, located in Cincinnati, Ohio, is known locally for academic excellence. Students, faculty, administration and alumni take pride in everything about the school – especially sports. But the school's athletic lobby didn't reflect that pride, and it needed a major refresh. Turpin turned to Exhibit Logistics because we were the only company they found that had all of the capabilities for the project under one roof. By using only one vendor, we gave them a hassle-free way to get all the services they needed, while streamlining costs and reducing the time needed for completion.
The first step was design. Our virtual reality animators brought our concepts to life in 3D, allowing Turpin to visualize the graphics in place at the school before a single graphic was ever printed. In this way, multiple concepts could be explored and tweaked before committing to designs that may not work well in the actual physical space.
Because UV lights immediately cure the printed inks, the "dots" that comprise the wet ink do not have time to "spread out" once printed, resulting in much finer detail
UV-cured inks are weather-resistant and thus offer increased resistance to fading
UV curing is also environmentally friendly as it produces low levels of volatile organic chemicals (VOCs), odor and heat
Lasting Graphics and a Lasting Impression
Turpin High School's Athletic Director, Tony Hemmelgarn, praised the work and the experience. "When we were looking to dress up our gym lobby, we specifically wanted simple and sharp. Exhibit Logistics delivered in the best way possible! Their attention to detail and commitment to excellence comes through in every way. We continue to get compliments about the look of our lobby every single day." Whether it's a local high school or a global industrial manufacturer, we treat our clients and their projects with the same level of care, service and professionalism. Learn more about our printing, installation and trade show capabilities at
https://exhibitlogistics.com
.