The Cincinnati Bengals' Choice for Quick-Turn Grand-Format Printing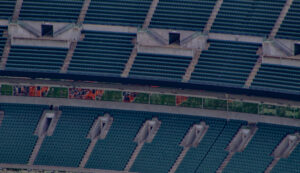 When the NFL's Cincinnati Bengals needed large-format prints in a hurry, they chose Exhibit Logistics from a sea of other printers in the region. Why? The job required printing huge, last-minute sponsorship graphics, up to 30 feet in length, to be installed at Paul Brown Stadium. Not only did these prints need to be delivered quickly to be ready for the preseason opener - they had to be tough enough to withstand the harsh Midwest winter conditions on the Cincinnati riverfront. Thanks to our in-house, grand-format dye sublimation printer (with 126" width print capacity), Exhibit Logistics delivered. The graphics were installed ahead of schedule, and the Bengals' front office was extremely satisfied with the cost savings and professional service. Exhibit Logistics' advanced printing system can handle nearly any imaginable interior or exterior application, including:
Trade shows (hanging signs, portable booths, table skirts)
Billboards
Retail (PoP)
Decorative interior
Our facilities in West Chester, Ohio, was chosen as an innovation site by our global grand-format dye sublimation printer manufacturer (MS Printing) along with leading ink and textile manufacturers. As a beta site, we test new substrates and technical specifications before they hit the market, enabling us to get first crack at (and experience with) printing on new, experimental substrates. We greatly appreciate the Bengals organization's confidence in us, and we look forward to providing you with this same level of excellence and efficiency in customer care.